Quick! Name two monsters from Sesame Street!
Okay, now name two female monsters from Sesame Street.
Those of you who can name them probably watch as much of The Street as I do (minimum one hour a day, every day. I know, I know. I'm probably rotting my kid's brain or her teeth or something). And even then, it's not that easy. Zoe and Rosita (and Abby if we're really stretching the definition of "monster") are the female monsters who have appeared the most frequently in the past few seasons.
There's strike number one. Most of the monsters are male monsters. There are so many male monsters that they even end up discussing their crises of masculinity*!
But the thing that really and truly bugs me is that the female monsters are always dressed up. Male monsters just are, but female monsters are at the very least accessorized. Don't believe me? Here's Zoe standing with Elmo: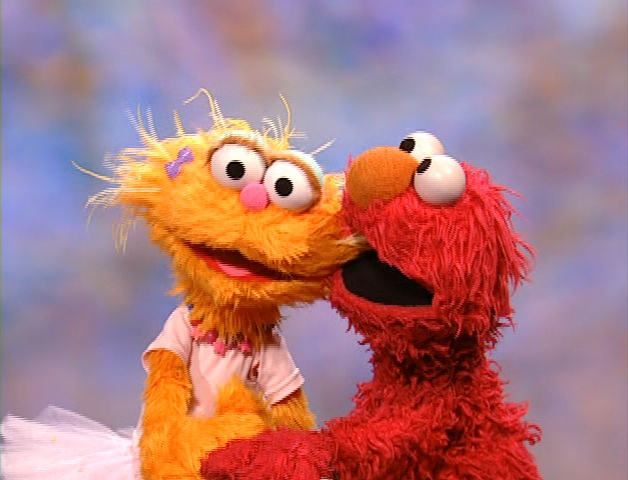 Elmo is just hanging out in all of his naked glory. Zoe, on the other hand, is wearing two barrettes (pink and purple, natch), a pink necklace, and a goddamn pink tutu. Rosita isn't nearly as crass with her accoutrements, but she's still stuck wearing a bow in her hair. Because, you know, girl.
So, what does this all matter? Why do I care if a fictional character that isn't even human has a hair clip, or pointe shoes, or a huge pink glittery sandwich sign that says "ASK ME ABOUT BEING A GIRL"? I have no problems with femininity or feminine characters, but I do have a big freaking problem with male being the default.
For all the good that it does, Sesame Street is reinforcing the concept that maleness is the norm and femaleness is the aberration. It is also teaching kids that women and girls are meant to be adorned and cannot just be. The solution is pretty easy, though: take the bow out of Rosita's hair and the next time a female monster is introduced, allow her to be plain, just like the male monsters. Allow her to define herself by her likes and desires and not how she chooses to decorate herself.
Sesame Street is a show of firsts. Gordon was one of the first Black role models for kids. Sesame Street was one of the first (and perhaps only) show to compassionately teach children about death and grieving. Sesame Street teaches us that we're all different without resorting to tokens. It's a brilliant show; now let's see it tackle gender in a meaningful way.
*Shorter the linked clip: Baby Bear (aka The Most Annoying Muppet in the Universe) loves his dolly. But what if Telly finds out? Don't worry, Gordon is to the rescue! This is all played out while Baby Bear's little sister (Curly Bear) watches dumbly from the background.
God, I wish I was joking about that.